HOW TO LET GO OF ANGER?
More than one in ten (12%) say that they have trouble controlling their own anger. One in five people (20%) say that they have ended a relationship or friendship with someone because of how they behaved when they were angry. Most of them regret their decisions later because they weren't wise enough to forgive and let go.
Anger is a pretty strong emotion and if we let it, it will destroy us.
Do you find it hard to let go of some things in life? Do you want to stop feeling angry and just let go? Do you sometimes wish that life would be so much easier if you could forgive and forget some people in your life?
You are in the right place. By the end of this article you would have the answers to all those questions in your mind.
(Read till the last word to really understand forgiveness)
Letting go of anger :
Before we start, I want you to know something : Forgiveness doesn't happen instantly. Forgiveness is not about healing. Forgiving someone isn't about escaping the pain. And it won't happen overnight. You reading this right now, gives you a compass on how to walk down this road of forgiveness.
QUESTION : HOW WOULD YOU FEEL IF I ASK YOU TO FORGIVE THE PERSON FOR THE THINGS THEY HAVE DONE?
You might be saying, " But no! They do not deserve forgiveness. They need to rot in hell!"
Let me ask you something : Why do you want to live the rest of your life being shocked by the way people behave?
I know you might be thinking, " Why did this have to happen to me? ". You can't believe your wife left you? Did u see it coming? Then believe it! You can't believe someone broke your trust? Better believe it, humans are not trustworthy!
I know that their behavior is "not okay" but you need to know that people can be that way. Its time to understand that life isn't fair and it's going to be rough and hard. We need to learn to align our expectations with the reality that life will let us down at times.
LESSON 1 : DON'T BE SHOCKED BY PEOPLE'S BEHAVIOR
---
QUESTION: DO YOU REALLY NEED ANGER TO FIGHT INJUSTICE?
Now understand that anger is something that I feel so very often. I don't get upset, I get angry and so when people ask me, do you really need to get angry? I get more angry. Right?
We are humans and we feel anger. Its alright to feel anger. But only on a short term. On a long term, anger affects judgement. Anger makes us take bad decisions and we might regret it.
Because when we are angry, that emotion gives you intentions that you won't have when you are YOU. So, you get back on the cycle of hurt and you hurt someone. Which would in turn hurt you in a way of regret. It is an endless cycle
So, why don't you break the wheel?
LESSON 2 : ANGER MAKES US TAKE BAD DECISIONS WHICH WOULD IN TURN HURT US
---
QUESTION : DOES ANGER REALLY LEAD TO GOOD ACTION?
Now when I say "good actions" : I mean actions that lead to the solution of that problem / conflict / Injustice.
Anger actually stops us from taking those valuable actions and instead we just act out just to feel good about ourself.
LESSON 3 : ANGER STOPS US FROM TAKING VALUABLE ACTIONS
---
Summary : Holding on to anger can kill us.
Let's say you are angry at your ex / wife. If you don't find a way to let go of it, it will find a way to come in between your future relationships and you would never have the happily ending you wanted.
If you don't heal what hurt you, you will bleed on people who didn't cut you.
Now answer this question : Do you have any bottled up feelings from the past conflicts?
If you have, it's time that you start healing yourself.
---
So, What Should I do to forgive?
In this article I just wrote endlessly about how anger will destroy our lives. I told you why anger is bad for you. But is acknowledging the fact enough of let go of that anger? Isn't that why you came here in the first place?
You so badly want to know " What you should do to forgive?"
The more important thing to ask yourself is "Why you should forgive?"
WHY YOU SHOULD FORGIVE?
Forgiveness is not a shortcut to the grieving process. Forgiveness is not healing.
"I KNOW WHAT YOU DID. IT'S NOT OKAY. AND I RECOGNIZE THAT YOU ARE MORE THAN THAT. I DON'T WANT TO BE ANGRY AT YOU. I CAN HEAL MYSELF AND I DON'T NEED ANYTHING FROM YOU"
Acknowledging the damage that they did to us and telling them that they do not owe us anything, that is the meaning of truly letting go.
Because some of you want that person to apologize to you. Some of you want an explanation from that person. And we get angry when we do not get those things from them. It is injustice and you become the victim.
But when you come to a point that you tell them " I know what you did and it is not okay. You are more than that and I don't need anything from you" : That is forgiveness.
AUTHOR SECTION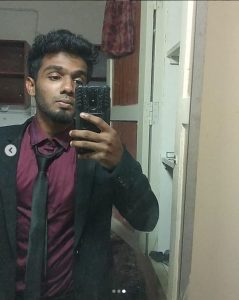 Written by Sai Subramaniam
Sai has over 4 years experience writing about mental health and productivity. He shares his thoughts about love, life and business in this blog. His goal is to help people become the best version of themselves and is guided by experts in the psychology and mental health field to help educate everyone about lifestyle and productivity