Romantic Things to Do: Love just cannot be explained in a few words. It's a deep and intense connection we share with another human being that is beyond our control.
What is this about romance and love that makes us feel like we are on the top of the world and satisfies a part of us that nothing else can. Right? Have you felt that? That unimaginable satisfaction and that dopamine rush that we all feel when we are close to the person we love.
We all want to be close to our partner and have more intimate and romantic experiences right? Experiences that would both bring us closer and make the bond stronger! Those moments that we would never ever forget!
Longing to experience such romantic moments with the person you love? Perhaps you want to propose or take it to the next level. Well if you are up for diving deep into your relationships, here's a list of romantic and intimate things to do with your partner
ROMANTIC THINGS TO DO : LITTLE THINGS THAT MAKES IT SPECIAL: THINGS YOU CAN DO TODAY :
WRITE SHORT STORIES ABOUT THE FUTURE YOU HAVE WITH THEM
What holds a relationship together? Love? Compatibility? Hope? A little bit of all these actually and a lot more.
But what I want to point out here is , both you and your partner would have hopes of a beautiful future that you will both share together.
Write short stories about the little moments that you would share together. Write a story about your family meeting or a hypothetical future coming home late from work stories or stories with kids or maybe making love in paris! It's all up to you!
This makes it really special! Trust me!
LEAVE SURPRISING AND CUTE WRITINGS AROUND HER:
Let's face the fact, all we want is to make our partner feel good. Right?
Another fact to face is that life can be really annoying and a pain sometimes and having a partner with us makes it better. But we cannot always physically be there to comfort our loves ones. So leave small bits of romantic notes in their work bags or drawers or in their clothes so they would find it sometime and it would make them very happy!
BUBBLE BATH DATE
This is especially romantic if you are living together with your partner. You could give them a heads up before reaching home back from work so they can get the bubble bath ready and waiting inside. Lite some candles and have champagne or whatever that helps you get loose. Get naked and just talk about the day with your partner in the bubble bath,
This doesn't necessarily have to be "sexy thing" but yeah who's laying any rules? The point is to connect and talk with your partner. Just another way to feel close to them.
I NOTICE YOUR RANT:
This could only be a one time thing because doing it often can be perceived as creepy.
What is a I notice you rant?
I notice that you laugh with your whole face. I notice that you sing along to all the songs on the radio. I notice the eye roll and a small smile before you kiss me. I notice.. so and so
That kind of thing. This makes them feel like they are the most important thing in this world to you and that's very intimate!
TOUCHY LONG DRIVE:
This is something that I love personally and maybe many other guys do as well.
What's so intimate about bike drives is the hugs and the casual touches and the talks. You can tell if your girl loves you just based on the way she holds you when she sits behind you.
The touch can be extremely magical and it makes the whole trip amazing!
Pick remote yet safe roads where there's no traffic. It's just you and your partner and you'll have only beautiful places and moments to remember!
DANCE TO THEIR FAVORITE SONG TOGETHER OFTEN:
There are not many people in this world who hates music. Music makes everything better! Including romance!
Know which song your partner likes and make a plan to surprise them. Surprises are the best! Cook their favorite meal, light some candles and get some flowers! Add personal touches to the date. Write a poem or just leave them a really romantic message. Play their favorite songs and just let loose! Sing together and dance together!
Remind them of the good times you have shared in the past. Fall in love with them every single day! Show them how special they are and trust me they will return the favor.
RELATED ARTICLES : Relationship Building Activities
---
ROMANTIC GIFTS AND PRESENTS:
GIFT A LOVE STORY AND A BOX OF "OPEN WHEN" LETTERS:
If you are into reading romance this is the best thing you can possibly do!
What is your favorite love story? Even if you aren't a reader, you must have like a romance or a love movie that's based out of a book! Get that book.
Make small markers on specific moments of the story that you really like. Markers and little notes and "Open when" signs and a corresponding romantic letter.
If your relationship is deep enough you can even have a "Open when you propose" letter as well. This would make your partner feel really special!
OUTFIT GIFTS :
This point comes straight out of an amazing romance story!
A guy bought his girl a complete outfit based on his understanding of what she loves to wear. Then he took her to her favorite restaurant and had an amazing date
Later his girl bought him an outfit similarly which he wore while he proposed to her 5 years down the line. It was such a beautiful moment!
So try to pull something similar with your partner! Present emotional gifts
MAKE SOMETHING PERSONAL:
This trick is right out of the age old romance book. Personally made gifts are special and it's common sense.
Yet why do I see people buying jewellery and purses rather than putting in an effort to give something personal.
You could literally make a ring in a jewellery class and present it to them. It could be a drawing or a writing. It could be a video or a photo collage or a mixed tape. You can even cook a tasty dinner for them! It's very romantic and it shows that you love them!
These gifts have emotional value and that could really strengthen the relationship with your partner!
---
FANCY DATE IDEAS :
CANDLE LIGHT DINNER AT THE BEACH ALONE:
No matter how many years passes, this is something that will always stay at the top of the list. The beach, the wind, the skies, the sound of the waves : the way our loved ones look in the candle light, delicious food, flowers and cuddles!
Ahh I feel like I am in such a spot right now. To even think about this makes my heart beat faster. If you love the beach and your partner and if you are into stargazing and cuddling, here's something that you should do often!
Take them here and show them your world. Treat them nice and hold them close. Be vulnerable and make that night magical AF. Get drunk or high if you are into that! Make it a night to remember
GO BACK TO THE PLACE YOU HAD YOUR FIRST DATE:
I don't know if you can vibe with this phrase " First meets are often where we fall in love"
Now of course it takes a hell lot of time to get vulnerable and sink in deep to emotionally connect and to actually fall in love. But the first date is the place where the seed for all that is planted. The subconscious attraction that gives way to the rest!
Go back to the place where the whole journey started. If there's an older couple reading this take your partner back to the place where you first met. This will relight the spark and things will get emotional and intimate real soon!
HIKE TOGETHER AND KISS AT THE PEAK:
Hiking together might not at all seem like a romantic thing to do. But trust me, you will get to see a version of your partner that you wouldn't normally see.
You know how they say
" It easy to be strong when things are going good and comfortable,
Its when shit happens people show their real face"
So be ready to see peoples real faces. I personally have tried this and have had some really amazing as well as some awful experiences.
If you and your partner are both outdoorsy and are used to physical strain its going to go good. But sometimes people get really annoyed and immaturely redirect it all at us and when that happens, you know what kind of a person they are.
But still, it is an intense experience you both share together and it will be amazing if you reach the peak and kiss at the mountain top
2) MOON LIGHT DINNER WITH CANDLES:
Candles and moonlight sets up a really beautiful mood! You can do this anywhere actually! Take them to a special spot in the city you live in or you can do this in your terrace just being peaceful and happy! The location is completely up to you.
You know the list could just show you a bunch of ideas to set a good mood and romantic situations to let you be vulnerable and connect with your partner. Nothing screams I love you more than putting in an effort to make them happy. So keep up with the surprise personal gifts that would awe them.
Just lay in the beach watching the moon, wrapped up in a blanket kissing and talking and just reliving the past and talk about the dream's for the future.
---
OTHER SIMPLE ROMANTIC THINGS TO DO IDEAS'S
WATCH HORROR MOVIES WRAPPED IN A BLANKET!
I don't think this point needs much of explaining. If you and your partner is not too paranoid of the paranormal stuff, you could actually have so much fun doing this together!
My girl is too scared of ghosts but she is open to watching horror movies provided I hold her tight. See how cute that date could turn out to be? I love being close to my girl and this just gives me an opportunity to just hold her close and I love watching her watch the movies! I am not sure if that sounded weird but it is what it is!
HAVE A PLAYLIST TOGETHER:
Having a playlist together can be fun in so many ways. For instance, when I am away at work and my girl is busy with her work, we cannot talk or be with each other. At those moments listening to the playlist we created when we were intimate makes me feel warm inside! Feels like she is with me all the time!
I don't know how it works for different people but having a playlist can be pretty romantic! Make sure you create them together and add the songs that remind you of your partner!
CREATE A TO DO LIST TOGETHER:
So in general when we start dating or when we start getting interested in each other we immediately start doing alot of things together!
Sometimes the things what we say that we want to do with each other, but then go ahead and forget it. It's always exciting to have a list to look forward to. Right?
Also this list could serves as a list of beautiful memories in the future if you go ahead and live through everything in the to-do list!
AUTHOR SECTION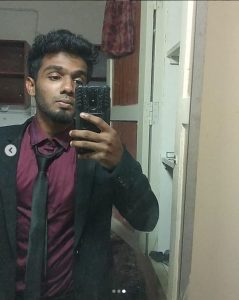 Written by Sai Subramaniam
Sai has over 4 years experience writing about mental health and productivity. He shares his thoughts about love, life and business in this blog. His goal is to help people become the best version of themselves and is guided by experts in the psychology and mental health field to help educate everyone about lifestyle and productivity