"Success is what you attract by the person you become"
Lessons from Jay Shetty :There are so many legends who have taught us time and time again to invest in our-self. To grow through pain and failure. To find our true purpose and meaning in life.
To find happiness and fulfillment in this world. To get past the set-backs and the humiliations. To find our path and walk it. To learn to love our self and to find fulfillment in relationship.
These self help guru's have really helped millions of people including myself and now let's explore the lessons Jay Shetty has taught us.

HAVE TO-BE LIST'S RATHER THAN TO DO LIST
HAPPINESS IS ACTUALLY AN INSIDE JOB
IN SERVICE WE FIND TRUE HAPPINESS
DETACHMENT IS TRUE POWER
PRACTICE GRATITUDE: AS FIRST AND LAST THING OF THE DAY
GO DEEP TO MOVE FORWARD
GIVE YOURSELF PERMISSION TO TAKE TIME
RAT'S RACE IS THE DEATH OF YOU
EVERY DELAY IS A BLESSING
BREAKING THE PERCEPTION OF PERCEPTION
WE CAN'T BE WHAT WE CAN'T SEE
BREATHING AND EMOTIONS ARE CONNECTED
FAILURES/ REJECTIONS ARE THE BEST THINGS THAT COULD HAPPEN TO US
3Cs FOR GROWTH
FINDING YOUR PASSION
REALITY CHECK : CHANGE THE WAY YOU LOOK AT DOWNS:
LOVE CAN'T BE FORCED
LET PEOPLE EARN YOUR TRUST
YOU CAN WATCH THE VIDEO IF YOU PREFER WATCHING OVER READING:
Jay Shetty Lesson 1
This totally changes how I look at life.
Every single day, I keep thinking about what I have to do today to take me closer to my goal.
Now I have started thinking, Who do i have to be if I want to reach my goals that my heart truly desires?
"Let's not be Human doings, Lets be human beings

Let's not have to-do list, Let's have To-Be list"
Jim Carrey states
" I want everyone to become rich and famous and then realize that it's not the answer"
This statement that "Happiness is not external but is internal" really shocks me. Because, we humans generally keep wanting things that would supposedly make us happy. Right?
We search for it so extensively outside from money to drugs to women to fame, we chase these things assuming that when we have them all, we would finally be satisfied and happy. But that's usually not the case.
---
Jay Shetty Lesson 2
"Finding happiness inside us" is a statement that have always made me ponder. Because ever since childhood, we keep wanting something : It may be goals or grades or money or social image. And when we have lived our life that way, the belief that "When I get that, i would finally be relieved and happy".

But Jay states that ,
"We are all wired for service

In service we find true happiness"
That is "Our real nature".
---
Jay Shetty Lesson 3
"Detachment is not that you own nothing

It is that nothing owns you"
Detachment is usually perceived as "being away from everything"
But what detachment actually is : " Being close to everything but not letting it consume and own you. That is true power"
It's about not being too excited in pleasure (Sex, love, drugs,fame,money) and about not being too depressed in pain ( Envy, Jealousy, Ego, Greed) To find balance. To be able to navigate every situation. That's true strength!
---
Jay Shetty Lesson 4
" I was sad that I didn't have shoes

Until I saw a man who didn't have legs"

Every single thing you have in your life, you should be grateful for. How many people out there are without a family? Are without a roof over their heads and without any money in their bank?
It is true we all have expectations based on the way we are brought up and we do get disappointed alot in this life.
"Just because you have it, doesn't mean you can take it for granted"
There are millions of divorces happen because people wait till their spouses leave them to know their value and love.

Just do this one thing:
Make a list of 20 things that you are grateful for. Practice gratitude as the first and last thing in your day. See how your life changes!
---
Jay Shetty Lesson 5
This is my personal favorite lesson. Jay says that if we are unable to move ahead in our path , its probably because we haven't gone deep enough in the step that we are at right now.
"If you just spend 10 mins a day with a person you like, how long will it take for you to fall in love with that person?"
Same thing applies for your goals and dreams. If you want to pull something off, make sure you go all the way!
---
Jay Shetty Lesson 6
"We all want to fit in"
People these days are in a rush to go somewhere. And in that rush, we often lose sight of what we want and settle for something that's "Not bad".

"Allow yourself to take time because purpose and passion takes time"
---
Jay Shetty Lesson 7
(Starting and ending!)

"Balance in life doesn't exist anymore"
We sacrifice our health to gain wealth and we sacrifice our wealth to get back our health"
"So many people die never having truly lived"
We live in a world where day-dreams are more common than dream jobs.Money clouds our search for meaning. We are in a powerful prison because we don't even realize that we are locked up.
It's not fine to not be able to spend time with the person you love, which took so long for you to find. The moment you take the important things in life (Passion, love, family) for granted, you are doomed in the prison with a tight collar around your neck called the job with a paycheck.

"We all have a passion.We all have a genius inside us!
Remember, the pain of regret is far greater than the pain of risk"
"A year from now, you would wish that you started today"
Jay Shetty Lesson 8
When we try to reach our goals and desires, we often hit a wall. We get pushed back by all these odds and we slowly start losing hope that we'll ever get there.
"We make permanent assumptions on a temporary emotion"
Jay goes on to tell you that every delay is a blessing because it gets you to something bigger.
---
Jay Shetty Lesson 9
" I am not what I think I am

I am not what you think I am

I am what I think you think I am"
We attribute our value and identity based on what we think people think about us.
Why is this important to realize?
We as humans have a desire to feel important and valued and when we attribute our value to other people's perspective, we live our lives in a bubble!
Your identity is made by what your college or university or parents wants you to achieve.
And when we live in that bubble, it is impossible to achieve what we want to achieve!
---
Jay Shetty Lesson 10
This is your first step in the journey of self-discovery!
Jay states that it is only when he saw a monk, he felt the connection and thrill and the desire to become one. This is true for everyone.
We need to be exposed because we can't be something that we can't see
You wouldn't aspire to be a writer if you haven't read a good book and you cannot aspire to be an actor, if you haven't witnessed acting. Makes sense right?
Now comes action :
Now that you are exposed, you need to observe them. Not just the lifestyle and the happy outcomes that you desire, but also the hard work that comes with it
---
"Your breath is the only thing that stays with us from the moment we are born to the moment we die"
Our breath changes when we are angry or sad or happy or excited. Our breath changes with our emotions. Jay says that when we learn to control our breath, we are control our emotions to a certain extent.
SIDE NOTE :
If you are going through a heart break or a severe loss, go through grief the right way. Breathing deep and slow can help you relax abit but this isn't a solution to your problems. This makes you feel calm so you can go find the solutions for your problem. That's all.
---
"Failures are only failures when we don't learn from them"

I am sure you have heard of this endless times.
Whatsapp's co-founder was first rejected by facebook and twitter even with 12 years of experience in his CV.
Bill Gates first company was a big failure. He grew from it
JK Rowling wrote a book that was first rejected by dozens of publishers!
When you succeed at something, you settle. You get to that place and you stay there. But when you fail, you ponder. You expand your scope and at the end, you are grateful for that failure.
---
Jay states that for a person to grow in any field, they need these three things
Coach
Consistency
Community
---
There is just one question that answer if something is your passion or not.
"When you do something you love, you would go through stress, pain and pressure and come out totally fine! And actually more excited and enthusiastic about what we are doing!"
Because when something is meaning and purposeful , you can achieve greater heights of stress!
NOTE :
Some of you have experienced what I have mentioned above but still don't pursue it : It's probably because of "Risk, fear, security or worry"

"What would you do if you know that anything you do would turn out to be successful?"
You can still pursue your passion as a side hustle until you succeed. Keep experimenting. Go to events. Network with like minded people. Join courses! Learn and eventually you would be living a life doing something that you absolutely love.
---
"Life is full of ups and downs"
But some of us find it so hard to get over some heartbreaks and failures.
Jay states ," If you are healthy now, if you have clothes on and a bed to sleep on and a roof over your head and some money in your bank, you are in the top 8% of the people living in this planet"
Be grateful for all that you have.
"When you change the way we look at things, the things we look at change"
---
There are so many toxic relationships out there. So many it freaks me out!
People these days use other people to get pleasure and feel good for the moment. Leading someone on so you can have fun on the side is not cool
" If someone wants to spend time, they'll always make time"
Do not force love. You'll end up getting hurt or even bad.. broken
---
Don't just give away your trust.
" The right will show you that they are the right person"
I have tremendous experience in failing in this. I gave away my trust, my heart and my soul just to be pissed all over it like it meant nothing.
So, don't repeat my mistakes
---
ADDITIONAL TIPS:
ALONE WITH OUR THOUGHTS: Be alone with your thoughts for at least half an hour in a day. Try meditating or just taking some time to reflect on your thoughts or maybe journal it out and see where you are standing and where you want to go. It's healthy that way.
AUTHOR SECTION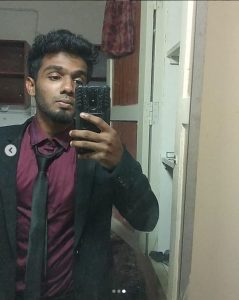 Written by Sai Subramaniam
Sai has over 4 years experience writing about mental health and productivity. He shares his thoughts about love, life and business in this blog. His goal is to help people become the best version of themselves and is guided by experts in the psychology and mental health field to help educate everyone about lifestyle and productivity